Impact actuator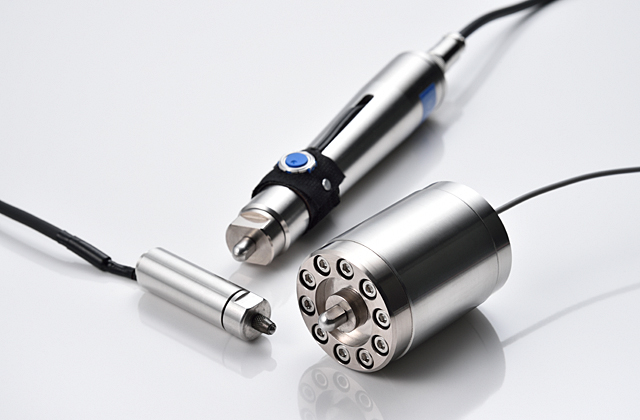 This product is an electronic hammer intended to move the workpiece (object to be moved) by applying a striking force to the workpiece by rapidly elongating a piezoelectric actuator. It can be applied to uses such as the fine position adjustment of a temporarily assembled part or rotation centering.
Applications
Positioning of a temporarily tightened part
Precision press fitting
Centering of a disc or rotary part
Lens centering
Oscillation source
Adjustment of the optical axis of laser optics
Lineup
Impact actuator
Model number
PP102
PP103
PP104
Figure

Impact force
Small
Medium
Large
Maximum displacement[μm]
9
17
35
Maximum generated force[N]
850

Controller / Driver
Type
Exclusive for a single-axis use
For connecting with multiple axes
Model number
SD301
SC1000 + ST1000 + SD101C
Figure

Major features

1 actuator can be connected for driving.
The controller and driver are housed in 1 case.
Price reasonable.

This consists of 3 units: a handy
terminal(ST1000), a controller(SC1000) and
a driver(SD101C).
Up to 8 actuators can be connected.
Driving axis switching and intensity setting can
be easily performed by using
the handy terminal.
RS232C interface is available, so command control by
PC is also possible.

Number of connectable actuators
1Axis
1~8Axes
Interface
External I/O
RS232C
Power supply
AC100V ±10%, 50/60Hz
Power consumption
50VA
62VA
Product Inquiry
Please wait while the form is displayed.
Excuse me, but if you wait a moment and the form does not appear, please contact here .
Examples of product application
From inspection and measurement to manufacturing equipment
We are ready to respond to requests for precision positioning of nanometers to submicrons required for various applications.
Inquiry