Controllers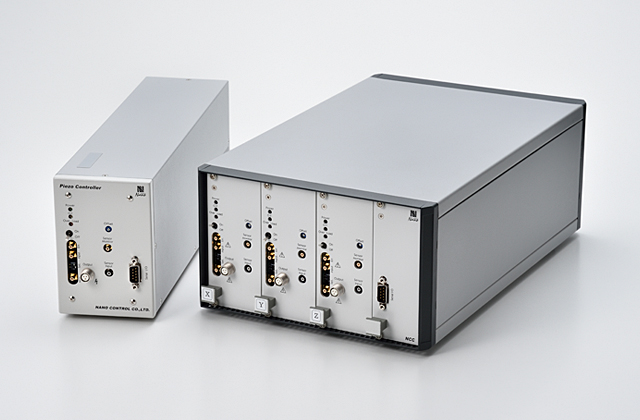 These are controllers intended to drive and control piezo stages. The controller, in which a control circuit, a driver and a displacement sensor amplifier are integrated, is directly connected with a piezo stage to provide closed-loop control. High-accuracy positioning with no hysteresis or creeping is achieved.
Having all functions required for precision positioning
A "feedback control substrate," a "low-noise driver substrate" and an "ultra-high resolution sensor amplifier substrate" are compactly modulated together and installed in the controller.
Multiple methods for a position command from a higher-level device are selectable
Since an analog voltage IF (0 to +10 V), a serial IF (RS232C), parallel IF (16-bit) and a USB/LAN are prepared, the customer can select an interface that is easy to use according to the purpose or use.※
※Options vary with models.
Lineup
Type of controller
Name of series
Feedback method
Number of axes for connection
Control interface
Features,guidance for selection
Analog circuit controller
NCS6000
P, I
1Axis
【Standard equipment】
・Analog voltage(0~+10V)
【Option】
①Serial(RS232C)
②Parallel( 16bit)
③Limited-function serial(RS232C)

Lightweight and compact
Inexpensive
Many choices for the control interface

NCS7000
P, I, D
NCM6000
P, I
1~3Axes
【Standard equipment】
・Analog voltage(0~+10V)
【Option】
①Serial(RS232C)

Multiple axes are housed in one case.
Another axis can be added to the vacant slot.
Lower cost than using three units of the single-axis type

NCM7000
P, I, D
Digital circuit controller
NCS8000
P, I, D
Single-axis type only
【Standard equipment】
・Analog voltage(0~+10V)
・LAN / USB
・Pulse input

The PID gain can be adjusted via the computer
Equipped with multiple control interfaces as standard
With an input/output trigger signal, capable of responding to the synchronization timing
Product Inquiry
Please wait while the form is displayed.
Excuse me, but if you wait a moment and the form does not appear, please contact here .
Examples of product application
From inspection and measurement to manufacturing equipment
We are ready to respond to requests for precision positioning of nanometers to submicrons required for various applications.
Inquiry