Piezo drivers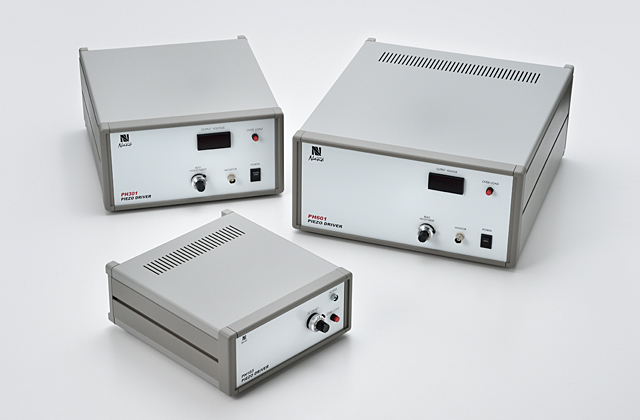 These are low-noise drivers designed to drive a piezo stage by applying a voltage. They can be each used as an external power supply in cases where the current is inadequate for an open-loop operation or with a driver contained in the controller.
Two methods for voltage output
①Manual
The user can manually adjust the output from 0 to 150 V by turning a "BIAS ADJUSTMENT" dial on the front panel. The output voltage value can be checked on an indicator*.
* An indicator of PH103 is optional
②External control
If an analog voltage (0 to 10 V) is input to the "Input" terminal on the rear panel, the input voltage will be amplified by 15 times to 0 to 150 V, and the amplified voltage will be output. Driving according to the waveform or frequency of the input voltage can be achieved.
Lineup
By output currents, three types: "standard-capacity," "medium-capacity" and "large-capacity" are selectable from.
Model number
Type
Number of connectable axis
Input voltage
Output voltage
Output current
Monitor output
Power supply
Size
[mm]
Average
Peak
PH103
Standard capacity
1Axis
0~10V
0~150V
40mA
500mA
Fifteenth part of output voltage
AC100~120V / AC200~240V 
(Switchable),50/60Hz
W210×D252×H96
PH301
Medium capacity
1A
±5A
AC100V ±10%,50/60Hz
W260×D314×H139
PH601
Large capacity
2A
±10A
W320×D384×H156
Product Inquiry
Please wait while the form is displayed.
Excuse me, but if you wait a moment and the form does not appear, please contact here .
Examples of product application
From inspection and measurement to manufacturing equipment
We are ready to respond to requests for precision positioning of nanometers to submicrons required for various applications.
Inquiry